WHO ARE THE RUSTICS

?
The "Rustic" Forward Air Controllers (FACs) were USAF OV-10
and O-2A pilots who, along with their French-speaking USAF interpreters, flew FAC missions over Cambodia in support of Cambodian allied ground forces from June 1970 to 15 Aug 1973, the last day of the air war in Southeast Asia. Their callsign was Rustic and their mission was Top Secret.

The Rustic mission began on June 19, 1970, with an urgent request for the US to provide air support to
beleaguered Cambodian troops who were under siege at the Cambodian provincial capital city of Kompong Thom. OV-10 and O-2A pilots, aircraft, and French-speaking interpreters, were thrust, literally overnight, into action in the Cambodian theater with no advanced warning. The first Rustic missions were flown from Tan Son Nhut Air Base, Vietnam.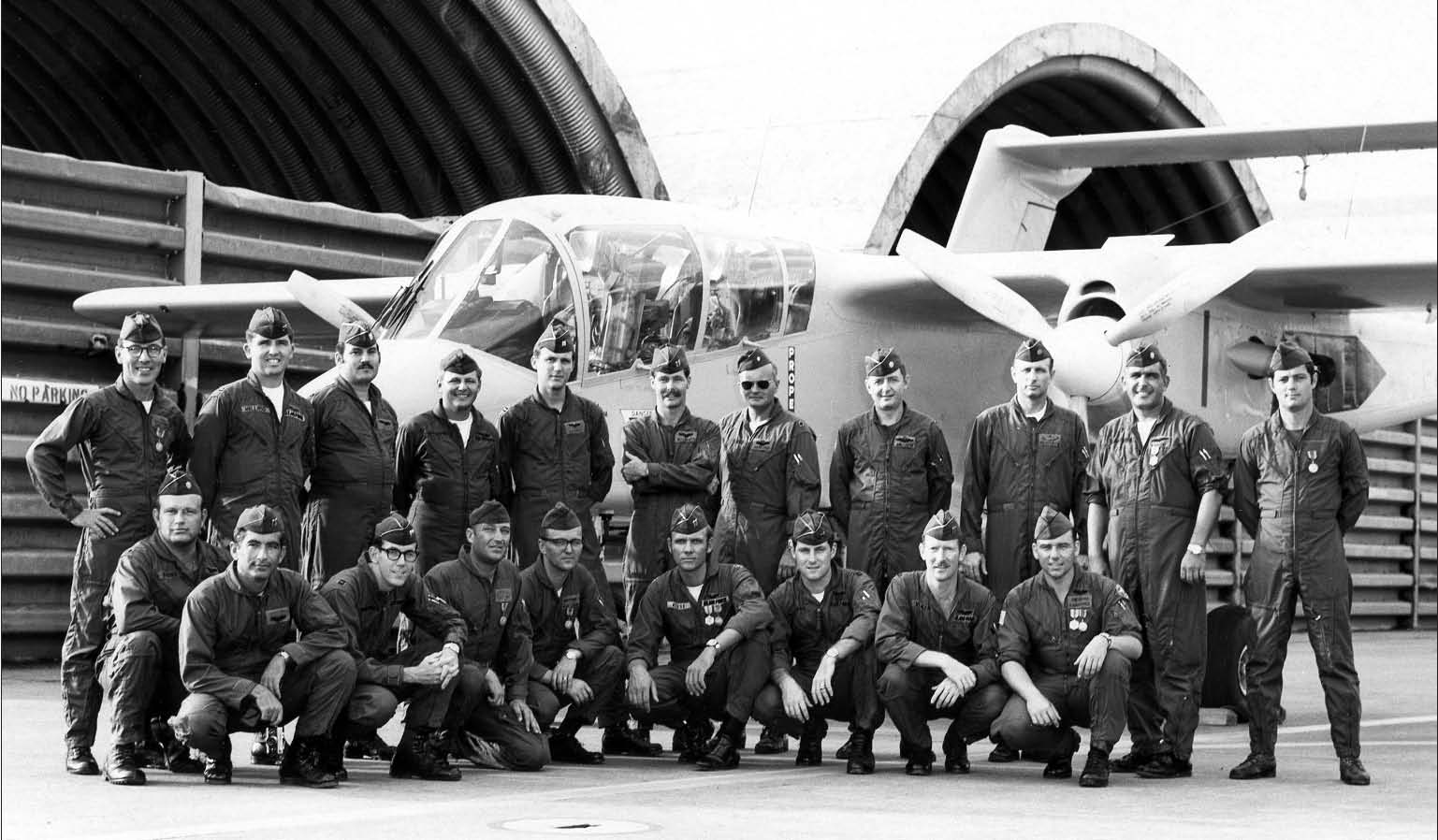 Shortly thereafter in late June 1970,
the Rustics moved to Bien Hoa Air Base, RVN where their operation continued to grow. Realizing effective support required 24 hour coverage in their area of operations, the Rustics recruited the 'Sleepytime' O-2 FACs to fly the 'Night' Rustic mission. Rustic operations continued from Bien Hoa AB until October 1971, when 'Vietnamization' and consolidation of US forces resulted in the OV-10 Rustics being reassigned to fly out of Ubon, Thailand. The Rustic O-2 mission was canceled and their personnel and aircraft were reassigned.

The Ubon OV-10 Rustics continued to conduct FAC operations
over Cambodia until the end of the air war at noon on August 15, 1973. During this period, they were also intermittently required to augment US air operations in Vietnam.
The Rustics held their first reunion in September 1997 and formed the Rustic FAC Association. To date, over 250 Rustic personnel have been located--to include pilots, interpreters, radio operators, intelligence and maintenance personnel, and Cambodian allies
.


---
---

If you would like more information on the Rustics, contact:
Claude Newland: Rustic19@cox.net or
Lendy Edwards: Rustic20@cox.net
Updated 10/20/2015
instagram followers cleaner instagram usa followers mellow johnny's jersey instagram followers 20k prada bag charm prada cleo maxi prada blanket prada pr18wv prada frame dr patel tampa house volcom outlet store elements construction premium stores fruit with spiky outside prada puffer boots make wigs prada bauletto bag whack bat silver prada pumps what is print concepts prada logo slides prada headband dupe gorras prada mujer chatgpt search engine prada pumps sale cmyk for reflex blue puma outlet mall 200 instagram followers prada lhomme review pin board large fake sideburns realistic prada chest bag carlucci restaurant chicago roll of cork prada wednesday shoes instagram followers legit tamagotchi.com carluccis menu adodas outlet chatgpt llm eric's all trades construction llc prada discount code prada refillable perfume club uniforms marca prada outlet stores online clothing chatgpt api github covered bulletin board pr17ws prada repurposed prada necklace fendi prada prada milano sneakers غوتشي pie jesus meaning diabo veste prada prada fine jewelry chatgpt 打不开 prada odette prada ski mask prada men's sunglasses define prada prada reissue prada carbon black www bananarepublic outlet prada green sneakers best prada perfume bing chatgpt waitlist eric's all trades construction llc followers pro instagram prada loafers style chatgpt mobile app make wigs prada boutiques prada nylon handbag gucci online sale tamagotchi game prada pr 24ys saffiano lux prada saks prada shoes tomagatchis beyond the door 1974 full movie women's prada eyewear yacht club hat prada second hand perfume prada candy unisex prada sunglasses elements design build prada cloudbuster prada triangle perfume green prada wallet instagram 2000 followers cork board sheet rosemont dining tamagochi prada vest women's red fruit with spikes instagram get followers prada winter boots my instagram followers prada candy sephora prada lhomme review fx hair products meundies boxer instagram followers audit outlet malls online dupe prada bag pantone indigo
Website problems/comments
rusticfac@outlook.com